consultation
ASETSM
The multifunctional solution for apple processing
Besides the tried and tested processing options, such as peeling and dividing apples, this appliance also provides an additional function in the form of slicing.
for bakeries
for industrial kitchens
for delicatessens
for patisseries
for fruit drying operations
for canning factories
for apple orchards
Four-step process
Easy and perfect processing of apples in just a few steps
Automatic peeling
Automatic slicing
Fruit is cored and may also be automatically divided with a dividing star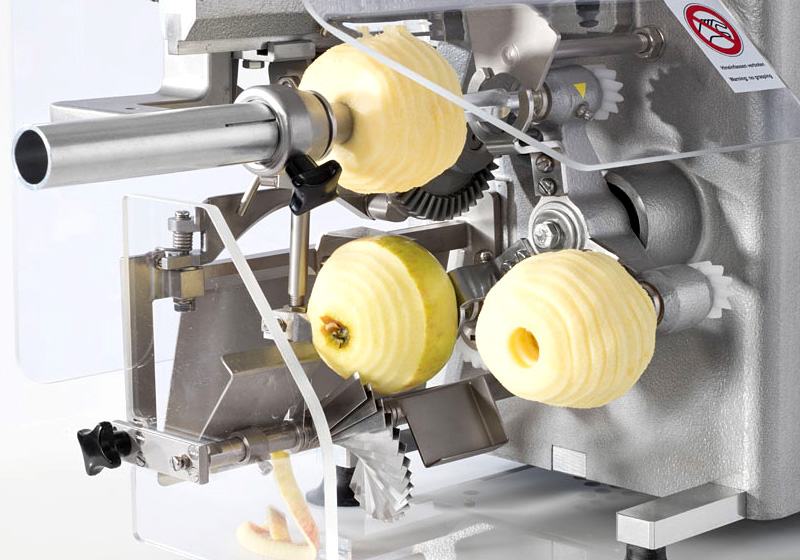 Accessories
Accessory set

Fan-Type Knife
FEUMA offers a wide selection of fan-type knifesthat allow you to obtain slices of various thickness, from 3.5 mm to 30 mm.
Options slice thikness 3.5 mm / 4.5 mm / 5.5 mm / 7.5 mm / 9.0 mm / 10 mm / 14 mm / 20 mm / 30 mm
Dividing star
We also offer 9 different dividing stars that allow you to split apples as you like, ranging from 2 to 24 pieces.
A fan-type knife in combination with a dividing star will cut the apple into small pieces.
Can be divided in 2 / 3 / 4 / 6 / 8 /10 / 12/ 16 / 24 parts
---
---
---
---
---
Technical data
Technical qualities
The high-quality spring-adjustable knife precisely adjusts to the size of the apple. Thanks to it, the peeled skin is very thin, even if the surface of the fruit is naturally uneven
Safe working thanks to the movable cover
Anti-corrosion protection, convenient cleaning
Time saving during work, elimination of manual work with a knife
Highly efficient processing of 70-100 kg apples / h
Type of current
230V 50 Hz
Throughput performance
70-100 kg/h
Fruitdiameter / length
Ø 30 – 85 / 80 mm
Magnetic safety device
Motor protection switch
CE tested
Dimensions
320x780x400 mm (W x D x H)
Standard