consultation
GVM 210
No. 1 for freshness in the kitchen
The appliance for EVERYONE who wants to process fruit and vegetables in outstanding quality. A never-before-seen vegetable cutting appliance. High-quality, durable and reliable. Outstanding quality with perfect cutting results for beautiful, fresh salads. For hotels, restaurants and catering, small businesses and vegetable processors. Basic version consisting of the drive and removable vegetable cutting attachment. This machine is available as a 230 V or 400 V variant.

Stainless steel
Expert vegetable cutter
Made in Germany
Attachments and cutting options
Processing options and application
This vegetable cutter GVM 210 can be placed anywhere in the kitchen thanks to its compact stainless steel construction. This food processor is equipped with a cutting attachment for fruit and vegetables that has a very large filling opening. The simple, convenient operation of the device enables optimal cutting, grating, chopping, strip cutting, dicing and, with the gourmet attachment, the perfect wavy cut. ​
Catering Kitchens
Hotels, Restaurants, Bars
Supermarkets
Catering and catering companies
Fruit and vegetable processing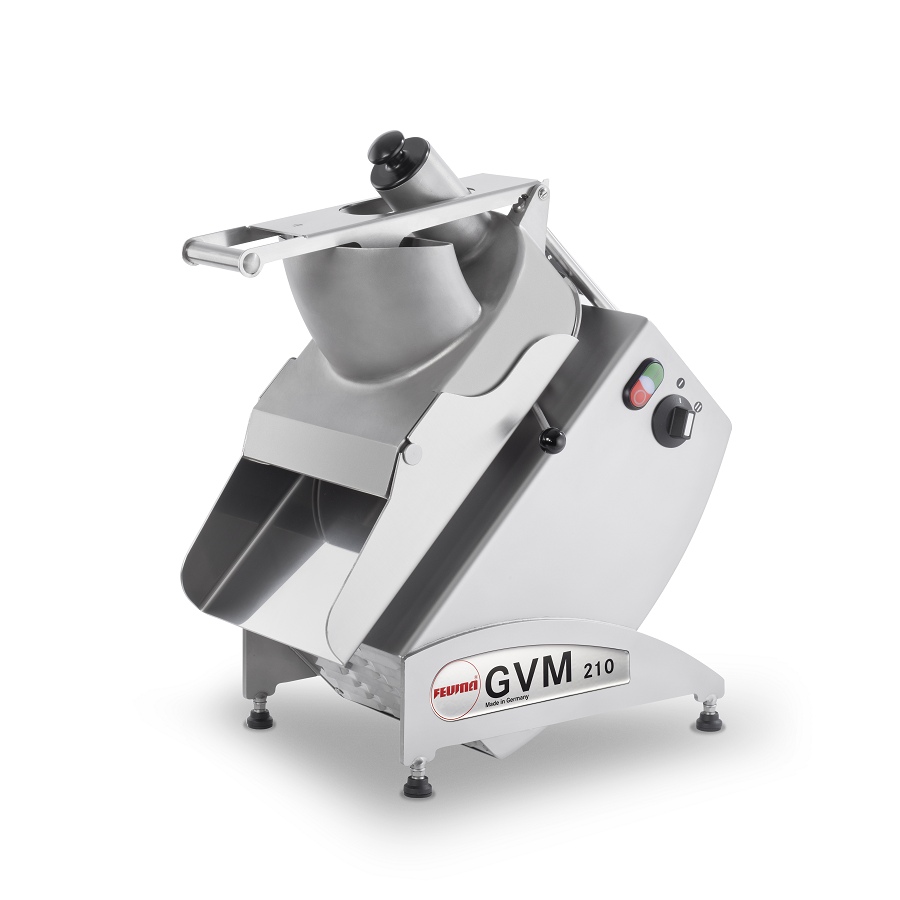 ---
---
---
---
---
Accessories
Gourmet attachment
The Gourmet attachment is an additional option. We recommend it to users for brunoise and gaufrettes to give your dishes an even more artistic and unique look. Thanks to it, you will get perfectly tiny onion cubes for tartare or decorative cut slices in the form of wafers.
The size of the gourmet cutting tube is 67/65 mm. The inclined tube has a diameter of 55 mm, the small attachment has a diameter of 35 mm.
diverse application possibilities
high performance, finely adjustable
rustproof surfaces
easy and efficient handling
best processing quality
Cutting options in Detail


stainless steel
best workmanship quality
disc diameter 210 mm



Vegetable cutting attachment

Gourmet attachment
Strip cutting discs
for processing tubers, such as: carrots, kohlrabi, potatoes, celery, etc.
2.0 x 2.5 mm, approx. capacity 85 kg/h
3.5 x 3.5 mm, approx. capacity 130 kg/h
5.0 x 5.0 mm, approx. capacity 175 kg/h
5.0 x 7.0 mm, approx. capacity 210 kg/h
7.0 x 7.0 mm, approx. capacity 210 kg/h
7.0 x 10.0 mm, approx. capacity 260 kg/h
Dicing device
consisting of a dicing grid, pusher, cutter bar, basic carrier – insert use additionally necessary
6 x 6 x 6 mm, approx. capacity 260 kg
8 x 8 x 8 mm, approx. capacity 260 kg
10 x 10 x 8 mm, approx. capacity 260 kg
16 x 16 x 8 mm, approx. capacity 260 kg
20 x 20 x 8 mm, approx. capacity 260 kg
---
---
---
---
---
Parameter
The default value
alternative
Type of current
400 V, 50 Hz, 3~ N
230 V, 50 Hz, 1 P
Type of protection
IP 65
IP 54
Motor capacity
0,75 / 0,95 kW
0,83 kW
Shaft speed
280 U/min 560 U/min
280 U/min
Connection cable with 5-pole CEE plug, 16 A
2,5 m
2,5 m
Magnetic safety device
Motor protection switch
CE tested
Standard